Ladybug Apparel / Clothes
Ladybug Decor / Collectibles
Ladybug Misc. Products
Ladybug Magnets - Ladybug Fridge Magnets, Ladybug Refrigerator Magnets, etc.
Features hundreds of fun ladybug magnets, perfect for ladybug lovers to use and includes ladybug fridge magnets and ladybug refrigerator magnets. These ladybug magnets are available with many different ladybug designs and many of them can even be customized. These ladybug magnets are a great gift idea for any ladybug lovers.
$1.50
Who are the love bugs you"re celebrating? An ultra-affectionate, engaged couple having a garden wedding? A new baby on the way? Family and friends at your annual barbecue? Everyone loves having these little bugs around! Features and facts: Two darling, red-and-black ladybug magnets have sweet, smiling faces and tiny, black hearts on their plump, red backsLadybug magnet measures " h x " 2 x 1 -" lAdorable, "backyard" gift box places the two little love bug magnets on a grass-green tier surrounded by a white-picket fence and blue skyDainty braided-rope handle and a red, heart-shaped "For You" tag with black heart accents complete the presentation
$9.00
Nothing beats the exceptional look and quality of our Ladybug Magnet. Among the finest made, you will be provided with great satisfaction and long lasting enjoyment. Why not pamper yourself or give a loved one a Ladybug gift to show them how much you care. The Ladybug Magnet will make the perfect gift for any Ladybug lover. Shop with confidence, because all products come with a 100% customer satisfaction guarantee. Click over now to see the big selection of Ladybug gifts we offer.
$5.00 $3.99
This cute Ladybug Dishwasher Magnet is a must for anyone with a dishwasher. It will take all the guess work out of wondering if the dishes are CLEAN or DIRTY. - Stick 'em up with our fun and functional magnets. Holds refrigerator notes, photos, dress up a school locker, room or workspace. Adds stylish fun to any room. Collect 'em, trade 'em. 2.25 inch diameter Metal shell Flat magnetic back Mylar/UV protecting cover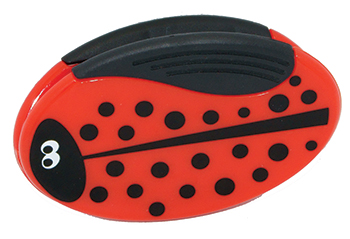 Ashley Productions ASH10237 Ladybug Magnet Clip
$9.94 $7.36
Strong magnetic clip for holding and displaying paper artwork signs etc. Sticks to steel surfaces. 2.5-3 in size. Packaged in retail poly bag.