Ladybug Apparel / Clothes
Ladybug Decor / Collectibles
Ladybug Misc. Products
Ladybug Magnets - Ladybug Fridge Magnets, Ladybug Refrigerator Magnets, etc.
Features fun ladybug magnets, perfect for ladybug lovers to use and includes personalized ladybug magnets, ladybug fridge magnets and ladybug refrigerator magnets. These ladybug magnets are available with many different ladybug designs and many of them can even be customized. These ladybug magnets are a great gift idea for any ladybug lovers.
$1.50
Who are the love bugs you"re celebrating? An ultra-affectionate, engaged couple having a garden wedding? A new baby on the way? Family and friends at your annual barbecue? Everyone loves having these little bugs around! Features and facts: Two darling, red-and-black ladybug magnets have sweet, smiling faces and tiny, black hearts on their plump, red backsLadybug magnet measures " h x " 2 x 1 -" lAdorable, "backyard" gift box places the two little love bug magnets on a grass-green tier surrounded by a white-picket fence and blue skyDainty braided-rope handle and a red, heart-shaped "For You" tag with black heart accents complete the presentation
$9.00
Nothing beats the exceptional look and quality of our Ladybug Magnet. Among the finest made, you will be provided with great satisfaction and long lasting enjoyment. Why not pamper yourself or give a loved one a Ladybug gift to show them how much you care. The Ladybug Magnet will make the perfect gift for any Ladybug lover. Shop with confidence, because all products come with a 100% customer satisfaction guarantee. Click over now to see the big selection of Ladybug gifts we offer.
$5.00 $3.99
This cute Ladybug Dishwasher Magnet is a must for anyone with a dishwasher. It will take all the guess work out of wondering if the dishes are CLEAN or DIRTY. - Stick 'em up with our fun and functional magnets. Holds refrigerator notes, photos, dress up a school locker, room or workspace. Adds stylish fun to any room. Collect 'em, trade 'em. 2.25 inch diameter Metal shell Flat magnetic back Mylar/UV protecting cover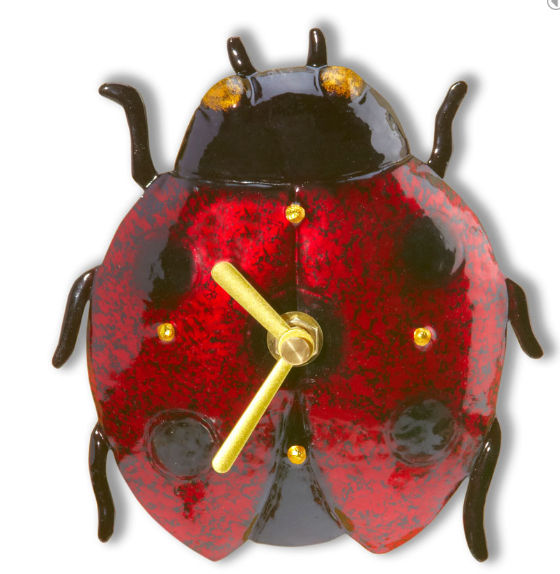 Deco Breeze DFA1860 Magnet Clock - Ladybug
$23.45 $17.37
Just looking around today s homes, you find incredible attention paid to detail, style and trend. Items all around the home from clocks, lamps, furniture, etc have gone through a tremendous evolution to reach the level of decorative variety you see available to consumers today. DECO BREEZE decorative portable fans are out to achieve the same design revolution for the portable fan category! Now, consumers will have the same functional appliance with the opportunity to choose one that looks great in their home or office. The DECO BREEZE marketing campaign slogan Feeling COOL has never looked so HOT! Magnet Clock - Ladybug. Sticks to steel or iron objects. Quartz accuracy. Uses a single AA battery (not included). 5 Tall x 4.5 Wide x 1.5 Deep.
Cute Little Ladybug with Flowers Magnet
This ladybug magnet is perfect for sticking on your fridge, locker or anywhere you want. It features my cute ladybug design with a floral background. You can even add a name to personalize this magnet or add your own custom text. You can also remove the yellow flowers background or change the green background color to one you prefer. This lady bug magnet is afforably priced so give this as a gift to a ladybug lover you know.
Cute Ladybug Art Magnet
This magnet features a simple my ladybug design and is waiting for you to customize it. You can personalize it with a name or initials or add a message. You can easily change to light yellow background color to another color. This cute ladybug magnet is available in three magnet sizes or you can select a square magnet instead of the round one. A fun ladybug magnet that any ladybug lover would enjoy.